| | | |
| --- | --- | --- |
| | | |
| | | |
| | | |
| | | |
| | | |
| | | |
| | | |
| | | |
| | | |
| | | |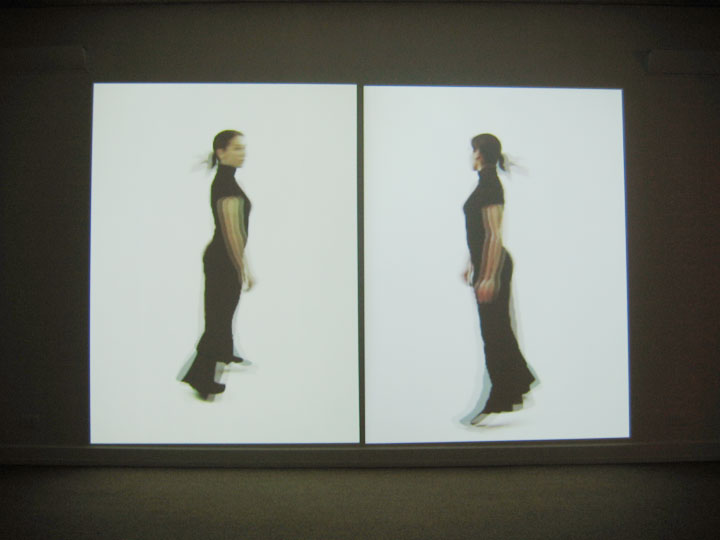 Corresponding III
two-channel video projection installation, 2006. 2
2 video projectors, 2 DVDplayers
exhibited at Dalton Gallery
'Corresponding III' is a two-channel video projection installation exploring the vibration of the subject and the 'in-between' space. As with my previous work, this project continues questioning three-dimensional screens and the moving screens.

In 'Corresponding III', the video creates a perceptual feeling of three-dimensional space, even though it is projected on the flat screen. The two-channel-videos were shot from two perspectives, the front and the back of a woman spinning. The two superimposed images projected on the flat screen from two directions deliver a feeling of depth, and the feeling of the continuous circular space where she spins. But still there exists a gap between seen and unseen, visible and invisible, so it also reveals the 'in-between' space.
The dancer spins staring at the camera lens, but in video she also looks like she is staring at herself. The scene looks like a mirror reflection, but it is not an actual reflection. The two corresponding reflection-like images also reflect a narcissistic feeling of an alter ego when she looks at herself.


Dance performed by Beliz Demircioglu.
Camera help by Jeong Han Kim, Lighting help by Cheung Ching Ming.

(In Mac, this movie could be seen after download)
Simulated Image Video
Quick Time movie (MPEG4), sound (3.63MB)-160*120
Quick Time movie (MPEG4), sound (8.07MB)-320*240
Installation Record Video
Quick Time movie (MPEG4), sound (5.25MB)-160*120
Quick Time movie (MPEG4), sound (9.93MB)-320*240