| | | |
| --- | --- | --- |
| | | |
| | | |
| | | |
| | | |
| | | |
| | | |
| | | |
| | | |
| | | |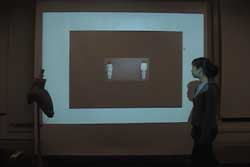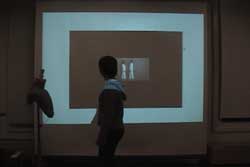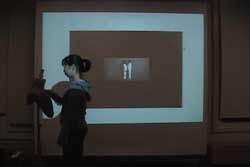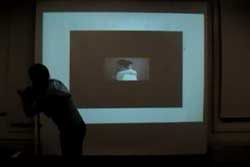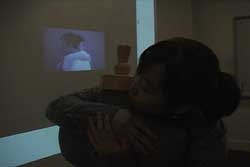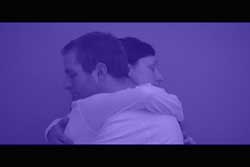 Liaison X
interactive video installation, 2002. 12
m
video projector, dummy, proximity sensor, touch sensor, ..
m
cowork with
Hun Song Lee
Jung Eun Yoo
Shuji Inaba
Xu Xu
exhibited at < Qville >, 38nine Studio, Long Island City, New York, 2003, Feb
mProject Liaison X was created as a physical computing class project at The Interactive Telecommunications Program at NYU. Moving away from using the mouse as an input device, we decided to try to find a way to use the human body as the interface, with the goal of emotionally engaging the viewer of the piece. We built a mannequin and placed a large screen behind it, on which there is a black and white video of a man and a woman in white standing at opposite ends of the screen. When a person comes close to the mannequin, proximity sensors read the change in distance between the person and the mannequin, and as the person gets closer, the people on the screen move together. If the viewer decides to hug the mannequin, a completely different video comes on, triggered by the pressure sensors, and the couple on the screen not only come together, but they also hug. When the viewer physically retreats, the people on the screen move back, individually, toward the opposite ends of the screen.
mIn designing and making this application, we felt that it was essential to understand human emotion and behavior. Any human gesture reflects feelings whether people realize it or not. We view the participant's motion like that of a dancer's through which communication is expressed. It is our hope that the viewer will create her or his own story as he or she interacts with the mannequin and the video.