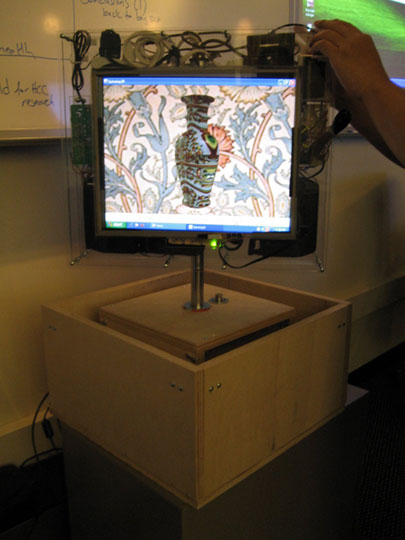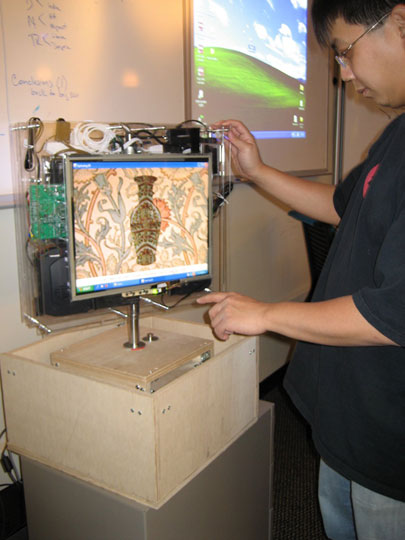 The Spinning Screen
interactive video interface, 2007-8
Collaborators: Kirti Goel, Heerin Lee, Ali Mazalek
m2 LCD Screens, spinning screen structure(two gears, 360 potentiometer, a rotary connector),

spinning screen structure size: 13 x 13 x 31(h) (inch) / 33.02 x 33.02 x 78.74(h) (cm)
Funded by Steelcase (2006-Current), the second version of the spinning screen has been created. This spinning screen has been designed as a horizontal display which has a two-sided LCD monitor posited back to back. Now this spinning screen can display the separate video outpout on each side monitor through VGA wireless technologies.
Kirti is developing several applications such as "SideWise" and "3D view" on top of the spinning screen interface for her HCI master project under Steelcase "InSpace" project. The physical structure of the spinning screen has been designed by Hyun Jean Lee since 2004 and Kirti Goel, Heerin Lee built the second version of the screen on Fall 2007 semester in Georgia Tech, Synlab under supervising by Ali Mazalek and Hyun Jean Lee.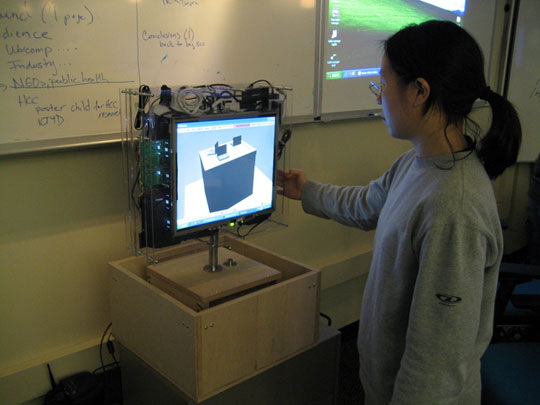 images are taken at Georgia Tech, GVU center, Steelcase room
Publicaion :
Hyun Jean Lee, Kirti Goel, Ali Mazalek. ( 2007 ) "The Spinning Screen: A Movable Experience Between Virtual and Real" in Proceedings of the International Conference on Advances in Computer Entertainment Technology (ACE' 07), ACM Press, pp. 266-267.